Keep your team
healthy and engaged
Walk Together is a mobile-based team building format that allows companies to engage their employees in any location as they participate in fun challenges that promote physical activity and collaboration among team mattes.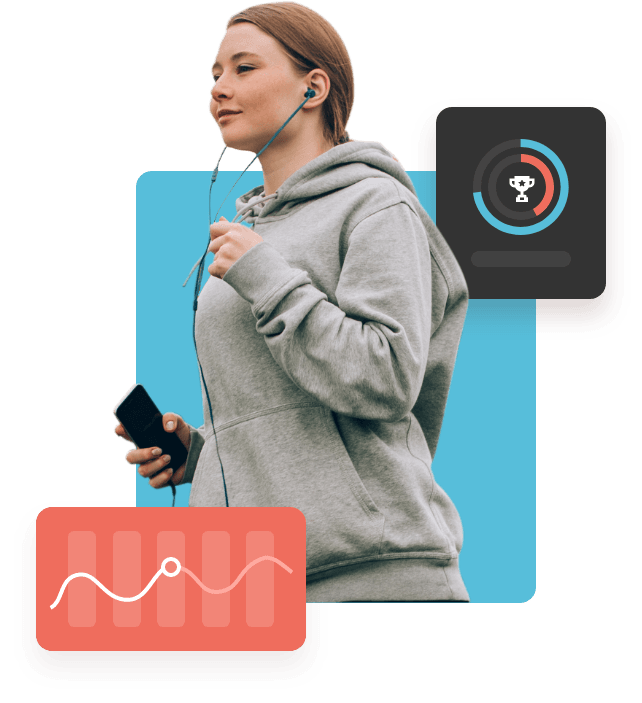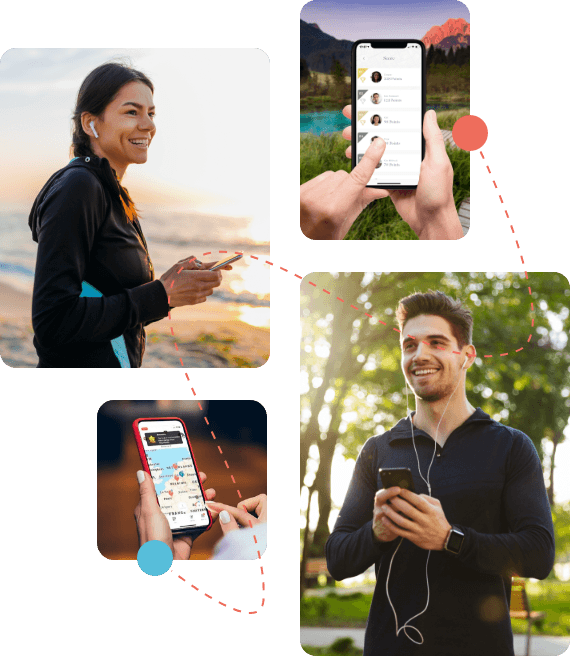 TEAM BUILDING, HEALTH AND MENTAL WELLNESS
Walking together towards the same goal

Walk Together is a COVID-safe, completely virtual, team building activity where participants must walk to win badges and unlock new challenges. It is focused on staff wellbeing, giving them motives to get off their workstation and walk. The game is collaborative and each participant contributes to his team score.
This fun team activity mixes trivia, puzzles, photo, and video tasks with a fun step count challenge. Teams can interact via chat to set their strategy and play from anywhere in the world asynchronously, choosing the time that suits them better to play.
A healthy and fun work environment
The disruption caused by the ongoing worldwide sanitary crise has a strong impact on staff mental health and motivation. Our mobile-based team-building solution helps you support employee health and well-being with healthy competition. When you add a fitness element to the mix, you give people a motive to get off the chair, release endorphins, strengthen relationships, create a sense of team and community.
Our custom challenges give your staff a motive to get off their workstations once a day to walk and interact with their colleagues. Even when they are not in the same physical space. The activity helps them to release the stress, improving their health and reducing risk factors.
The game will allow your staff to interact in a non-work-related event. They will train several skills during this activity that are very important in their daily work routine as; aligning with goals, working well together, brainstorming, positive reinforcement, time management, persuasion, and communication skills.
In this virtual challenge, your employees will interact with each other and hold each other accountable for their team and individual goals. These dynamics will help them to hold each other accountable in work-related tasks too.
Total control for the organisers, full comfort for the participants.
Walk Together allows for complete control and flexibility when it comes to running a mobile-based tem building event for your staff or community around the world.
Setting up teams and sending invitations
Use the web back-office to set the team and alliances. Participants will receive a custom email with the instructions to join the game.
Create tasks and dynamics conveying the objectives of your company with the help of one of our partners.
Get the activity
analytics
See the distance walked by teams and alliances in the web back-office.
Every thing on the tip of their finger
Participants will receive an invitation by email, and they just need to scan a QR code on their iPhone or Android to join.
Play where they want, when they want to.
Participants can play from anywhere in the world, whenever they feel like it during the time the activity is running.
Have fun with their team mattes
Participants interact trough the chat to set their strategy and send gadgets to rattle other teams.
Different challenges for different skills
Our solution is not just a fitness challenge, but a complete team-building platform with tasks that fit the knowledge and abilities of each participant. If someone in the team can't go out and walk, this person can participate in solving puzzles, and other tasks that will add points to his team.
Step count challenge
Photos / Videos
Puzzles
Quizes
Guess the song
And other mini-games
Fill out the form below and we will contact you to schedule a demo
Get to know our Team Building solutions